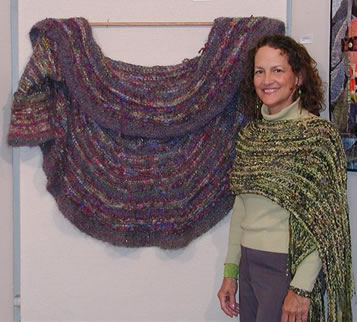 Sarah Montie Punderson has over 40 years experience as a knitter. She was 8 years old when she learned how to knit from her mother and made a misshapen but very colorful Christmas stocking for her first project. After college she started using knitting machines, combining the skills of both hand and machine knitting and started selling her custom designs.
Sarah currently designs for Plymouth Yarn Co. Inc. and for herself, selling her patterns through independent yarn shops. Sarah is certified as a knitting instructor by the Craft Yarn Council of America and teaches knitting at local stores and her studio where she has occasional open houses during the year.
Her handcrafted designs are especially popular at craft events around Ocean County, New Jersey where she lives with her family. In 2006 she began designing fiber art and the piece hanging on the wall in the photo was accepted into the 2006 Ocean County Artists Guild Juried Show.
As a certified knitting instructor, Sarah saw the need for easy to follow explicit directions for advanced beginner and intermediate knitters. She started selling patterns and kits of her designs from her studio as a way to share her knowledge and expertise. The response has been great and she has decided to branch out over the Internet. Her kits are available here and patterns are also available on etsy and ravelry under saramontie.
Philosophy: Sarah's designs are a mixture of traditional and non-traditional elements. Her patterns are easy to read and are often based on simple shapes and techniques that minimize complicated finishing. The majority of her patterns are accessories so sizing is often not critical. Her love of texture and color shows up in her ability to mix yarns and to match yarns to particular styles.